Services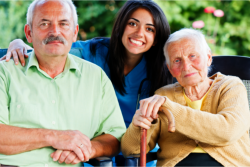 We provide health care and related services that would take care of your needs in the comfort of your home or any familiar environment that you choose. We strive to make it possible for you to live as comfortably and as independently as possible. We have well-trained and efficient staff that work as a team in conjunction with our clients, their family members and physicians or primary care providers in offering specialized care and attention in the comfort of your own home.
Our services are designed for the elderly, adults, young adults and children who are recovering from illnesses or undergoing treatments; those that are physically or mentally challenged; those that are chronically ill, and those that require disease and medication management. Specifically, we provide the following services:
Nursing Services
Our registered nurses provide a range of home health care services to individuals in their homes. The services are available to meet the specific need of each care receiver and are coordinated by an individualized plan of care developed by PHCA's Registered Nurse, the care receiver/family and his or her physician. These services include:
Skilled Observation and Assessment
Care Planning
Professional Supervision
Skilled Treatment
Clinical Monitoring and Coordination
Counseling and Referral
Physician ordered Nursing Intervention and Treatments
Medication Management
Instruction/Teaching including Nurse instruction and training
Personal Care and Support Services
Our licensed and well-trained home health aides, personal care aides, home companion and assistants, nursing aides, and assistants, provides homemaking, housekeeping and other related services such as:
Meal preparation
Care and feeding of children
Shopping
Cleaning
Light housekeeping – laundry
Preparation of household budgets
Medication reminder
Medical Social Work
Our Medical Social worker will always be available to have one-on-one interaction with the care receiver and their families. The aim is to significantly improve the client's medical conditions by proactively addressing any psychosocial problem the client may have. Some other services include:
Short term counseling
Financial and environmental assessment
Education of clients and their families about community resources
Community resource planning
Advocacy for entitlements that may improve quality of lives
Short therapy
Adult Care
Our adult care service are designed for the elderly who are not able to live (independently) on their own, but rather than move into a nursing home, would still prefer to receive the quality care and services they need within the comfort of their own homes. Our professional nurses will review the needs of the clients with the family members concerned, and when necessary, would consult with the physicians of the care recipients to simultaneously or collaboratively develop unique care services that would be suitable for each care recipient.
The individual care plan that is developed by our team will be administered to the recipient by our registered nurse and licensed home health aides who are culturally sensitive. We also follow up on our personalized adult care program through phone check-ins, and home visits that do not infringe on our clients' privacy. We constantly keep the communication lines open between our caregivers and the care recipients to ensure their health and wellbeing.
Our goal is to empower our clients by providing them with as much independence and peace of mind as possible. We also strive to engender the confidence of their family members to assure them that their loved ones are being cared for by qualified and caring caregivers.
Some of the adult care services we provide include:
Meal Preparation/Diet monitoring
Eating Assistance/Feeding
Escort to Appointments
Wheelchairs/Walkers Assistance
Bathing/Dressing
Joyful companionship
Errands and Shopping
Ambulatory Assistance
Light housekeeping
Nutrition Care
The evaluation and assessments of our patient's dietary/nutritional needs, are carried out by our skilled Dieticians or Nutritional Counselors. Direct nutritional counseling, and recommendations for any alterations in the patients' prescribed diet, or dietary regimens would also be made by our experienced dietary counselors in consultation with the attending nurse, the individual patient, and their family.
NHTD & TBI Waiver Programs
The Nursing Home Transition and Diversion (NHTD), and Traumatic Brain Injury (TBI) Medicaid Waiver Program is a Home and Community Based Services (HCBS) program, approved by the NYS Department of Health under Medicaid programs. Promise Home Care Agency, Inc. is approved to provide waiver services to individuals between 18 and 64 years with physical disability or age 65 years and older upon approval. PHCA provide service coordination, HCSS and other services to these individuals if the qualify. Contact us today to see if you qualify.